News
Rick stars in filmed Mulroney opera!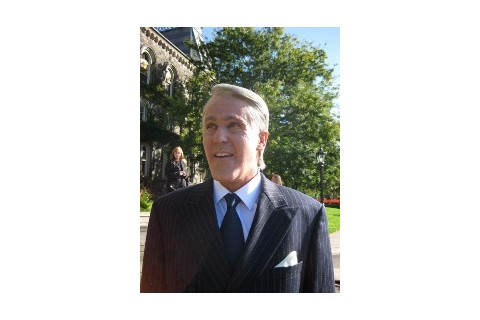 Yup, the chin's out of the bag!  One of Canadian entertainment's best-kept secrets has just been released:  Rick Miller stars in feature-length operatic film about the life of one of Canada's most controversial Prime Ministers, The Right Honourable Brian Mulroney. 
Read the features in the Globe and Mail, the National Post, the Star Phoenix, Toronto Life, Canada.com
Rhombus Media, the film company behind such movies as The Red Violin and Passchendaele, has invested $3.75-million into creating a full-scale comedic opera, with a score by Alexina Louie and a libretto by Dan Redican.  Niv Fichman is an executive producer; Larry Weinstein is producing and directing. The production begins with Mulroney's childhood in Baie-Comeau, Que., before covering his political career, and ending with the unveiling of his portrait on Parliament Hill in 2002.
"Mulroney is played by Rick Miller, known for such one-man stage shows as MacHomer and Hardsell, as well as his versatile appearance in Robert Lepage's nine-hour play, Lipsynch. In this production, he juggles Mulroney's mannerisms with tricky lip-syncing, matching his "schmacting," as he calls it, to the bass baritone of Canadian Daniel Okulitch (best known for his role in the David Cronenberg opera The Fly), who sings Mulroney's part.

As is often the case in his own shows, Miller's acting is exuberant and physical, adding a suitably grand theatricality to his Mulroney character. "Casting Rick sort of opened my eyes about what [the opera] could be," said Weinstein, on the film's set in Nobleton, Ont., north of Toronto. "It could be more fun, more athletic. It's not as dark or edgy [as we once envisioned it]. This is a comedy."
Says Miller, "I think this tragicomic opera is a perfect vehicle, not to make people necessarily love Mulroney again, but to see more nuance in a complicated story of power. I think everyone working on this likes him more than they did before."
The rest of the cast is an assortment of Canadian film, television and theatre mainstays. Colin Mochrie plays Jean Chrétien; Ted Dykstra is Ed Broadbent; Wayne Best takes on Pierre Trudeau; Joe Matheson channels Ronald Reagan; and Sean Cullen is one-time Mulroney cabinet minister Robert Coates. Mila Mulroney is played by Edmonton native Stephanie Anne Mills.
Canadians' first chance to see it will come next spring or summer, and Rhombus has cemented a deal with New York's Metropolitan Opera to follow its
Met Live in HD
season with a series of Canadian theatrical screenings at Cineplex theatres. Where else it might air remains to be seen, but Alliance Films holds distribution rights.
<< Back to news