News
JUST ANNOUNCED: BOOM showcased at IdeaCity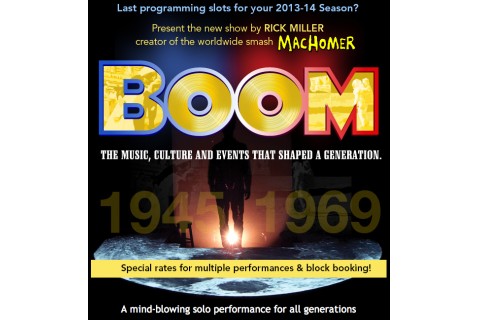 On Friday, June 21st, Rick Miller will preview 17 minutes of his upcoming solo show BOOM at Moses Znaimer's IdeaCity conference in Toronto. It will be Miller's thrid time presenting at the globally-recognized conference. In 2009, Miller presented excerpts of Bigger Than Jesus, and in 2011, excerpts of HARDSELL.

ideacity, also known as 'Canada's Premier Meeting of the Minds', is an eclectic gathering of artists, adventurers, authors, cosmologists, doctors, designers, entertainers, filmmakers, inventors, magicians, musicians, scientists and technologists.
Fifty of the planet's brightest minds converge in Toronto each June to speak to a highly engaged audience. Only 600 are privileged to attend.
Produced and presented by Moses Znaimer, ideacity is not themed around any one topic, issue or business. There are no scripted speeches, breakout or parallel sessions. Rather, everyone is in one place and experiencing the same narrative.
With extra-long schmooze breaks between sessions, and legendary parties each night, attendees have had an unprecedented opportunity to mingle with such notable speakers as Conrad Black, Barbara Gowdy, Michael Ignatieff, Douglas Coupland, Pamela Wallin, Pete Seeger, Robert Kennedy Jr., John Ralston Saul, Daniel Libeskind, Clayton Ruby, Romeo Dallaire and the late Peter Jennings.
http://ls4.co/2eC
<< Back to news